Sydney from The Daybook started Awkward and Awesome Thursdays. We recently started doing this, and I think it's quite fun. If you would like to get linked up for Awkward & Awesome Thursdays visit The Daybook and leave your link and grab a badge!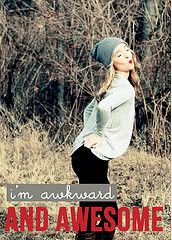 1)

When you've just finished having a good bitch session about someone and then realise that they probably heard everything you said
2) Trying to decide if I can go without shoes on April 4th! Tom's One Day Without Shoes is coming up on April 4th. I'm not sure how the judge would feel about my not wearing shoes in the courtroom ; (.
3) Organizing our garage last weekend we had to move all of our stuff outside. TWO people came buy and offered to buy various items. Apparently our organizing looked like a garage sale!
4) I was talking to a colleague about his travels. When asked what he does in the evenings for fun, he responded that he looks around stores, browses book stores and watches porn. Nice. Thanks for sharing.
1) Realising it is a lot warmer outside than you thought it was!
2) New ways to make grilled cheese! With this method you put bread in the oven with cheese on top. You can put a slice of tomato and turkey under the cheese for extra protein and veggies!
3) It's almost the weekend!
What I've Been Wearing Lately
This is a green Antonio Melanie dress with a Merona Yellow cardigan and Milly snake print flats from
Scarpasa
. I decided to wear the green belt that goes with the dress on the outside of the cardigan to better define the waist. For acessories I wore my Michael Kors watch and glass bead earrings from Shea Babe's etsy store!
This is a Spense dress from Dillard's, pink Rampage cardigan and my large Flintstones style pearl's from H & M. I got to attend a KMUW "Music Tasting" about the Wichita Jazz Festival. Apparently it has been going on since the 1970's.