Sydney over at The Daybook is so funny and came up with a great idea!
Sydney graciously hosts "Awkward & Awesome" Thursdays each week on her blog, where she posts her awkward and awesome moments. If you want to participate, make sure you grab one of these styling Sydney badges, and link back over on her website!! We heard about it through another lovely blog Statements in Fashion.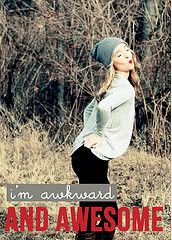 1) Dealing with intimate personal details of other people's lives as a part of your job!
2) Being a bag lady. I don't know why, but I carry so many bags! I always have a huge purse, now I have my camera bag with several lenses in it. I often have a gym bag or lunch with me too! I must look so odd walking into my office building.
3) My client telling me that I must settle his lawsuit! His wife apparently hasn't slept with him since the lawsuit started. He will be lucky if they are only separated rather than divorced by the end of it. So sad.
1) Grandparents coming to town! Apparently my grandparents have some birthday present for me that they think I can enjoy on my trip with Hubbs next week to California! So they are coming tomorrow!
2) Traveling to California next week! I hope that it's warm!
3) My first deposition! Yes, it's a bit sad that I have been out 1.5 years and am just now doing a deposition. I had the opportunity to second-char a trial. That was awesome. So this is a bit of a step back. But, an exciting step back all the same.
I will update this with some of my outfits lately later tonight!