Sydney from The Daybook hosts
Awkward & Awesome Thursdays
each week. You can sign up to do it also
here
!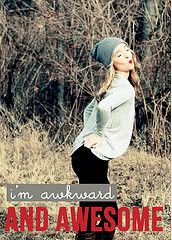 Awkward
1) When you email an acquaintance on Facebook letting them know you will be coming to town and they don't respond. Is it because they don't want to hang out? Or, are they just not Facebook people? Should you email them again? Annoying...and awkward.
2) Packing in a wee bag. I like to have many clothing options when on vacation. I really hate how you have to try and cram all of your things into a carry-on now to avoid a $20.00 fee.
3) Packing for 50 to 60 degree weather. I normally go for layers. But it would be nice if the weather could just pick an option! Be warm or cold!
Awesome
1) Traveling! Joshy and I are hanging out in L.A. this weekend! So that's the reason I won't have any outfits to post here for the next few days. Sorry for the silence!