I know we've missed a few weeks. But I caught up on my reading of The
Day Book
this week, and I wanted get back on the Awkward & Awesome bandwagon. Sydnei at The
DayBook
hosts
Awkward & Awesome Thursdays
.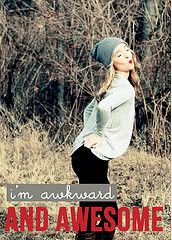 1) Reading one of your fave blogs and realizing that you missed something! Now they're pregnant! I really enjoyed reading Sydnei's The Day Book. I guess I had missed it for a few weeks. She must have announced somewhere in there that she's pregnant!
2) Forgetting your tripod. I really enjoy stopping by Old Town here in Wichita on my way to work to take outfit pics. Things were quite hectic for me for awhile there. So I was taking my pics at home. This morning I decided to buck the rend and take one in Old Town. Alas, I forgot my tripod. Not to be dissuaded from meeting my goal, I put my camera on a cement wall and made a go of it. I think I got a few decent ones ;).
1) Making your own wine! Joshy and I are heading out to
Grace Hill Winery
tomorrow for
the Make Your Own Wine
event! They will have barrels of their basic wines and we get to mix them to come up with our own signature house blend. Speaking of...I need to send them a good picture of us!
2) Working from home. Next week Joshy gets to work from home all week! Joshy normally travels during the week Mondays through Thursdays. I'm so excited to have him around all week!
3) Kendi Everyday's 30 x 30 challenge! Kendy's new 30 x 30 challenge will be starting June 13th which is this coming Monday! Shea and I vowed that we would be much more careful choosing our items this time around. So I will definitely be starting the choosing process tonight. Shea is actually not going to participate this time around because she is coming to see ME!!! She is also coming for her sister's wedding...which will be cool. But I ALSO GET to have an AWESOME time with her in LAS VEGAS!!!
4) Shea and I (and our hubbies) will be in Las Vegas in less than a month!